Another Year, Another Year in Review: 2019 at Enespro PPE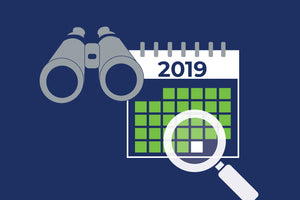 By: Mike Enright
It's been another busy and rewarding year for all of us here at Enespro PPE. Since our launch in 2018, our goal has been to reinvent electrical PPE to help safety professionals increase compliance by addressing many of the problems workers have been complaining about for years.
With the help of hundreds of safety professionals as well as electrical workers that actually wear the PPE, we introduced new arc flash gear that has been referred to by our customers as "game-changing", "truly the next generation of protective gear" and "the most comfortable arc flash suit I've worn". We are humbled by all of the praise and very pleased that our products are playing a role in keeping electrical workers safe.
It has definitely been an exciting and fast-paced year and, as we did last year, we would like to take a look back to our news, successes, and announcements throughout the year.
Multiple Companies Share Their Enespro PPE Story
We are pleased that several organizations were so happy with the positive impact Enespro PPE products made on their safety program that they shared their stories with us. The full case studies can be found on our website but we've summarized a few below:
Chicago-Based Electrical Contractor Increases PPE Compliance with Enespro AirLite
Kelso-Burnett Co. is a 111-year old, employee-owned electrical contractor serving the Chicagoland area. They offer traditional electrical services in industrial and commercial distribution systems, including critical power, electrical demolition, design, lighting, maintenance and service, and power distribution.
After assessing a variety of products on the market, Kelso-Burnett decided to work with Enespro for their electrical PPE needs. They acquired several Enespro AirLite 40 CAL kits with OptiShield™ Vented Lift-Front Hoods to test out the new approach to PPE. The feedback from the Enespro PPE that was sent out for trial was extremely positive at Kelso-Burnett. Safety Director Bill Pineda explained, "The guys love it. The suits are lighter and breathe better, which makes a huge difference." Pineda also described how complaints about PPE compliance have significantly dropped since switching to Enespro PPE. "I've actually heard some compliments come back about the new gear, which says something about the product, considering it is still PPE we are talking about. It gives me confidence that our field employees will continue to wear this gear."
Read More about Kelso-Burnett's move to Enespro here.
Major Silicon Valley-Based HVAC Contractor Reignites Enthusiasm for Electrical PPE
Therma is one of Silicon Valley's top providers of services for Heating, Ventilation and Air Conditioning (HVAC) systems. Their offerings span design, construction, implementation and maintenance of HVAC for buildings and industrial facilities, including large-scale data centers.
After the leadership team reviewed multiple options for new PPE, they decided to move forward with the 12 CAL Enespro Arc Flash kit. After testing out a few, they recognized just what Enespro products can do: Increase enthusiasm for PPE.
Get to know more about Therma's story here.
LidCo Dramatically Improves Compliance
LidCo Electrical Contractors Inc. is a 35-year-old, family-owned business serving Central Massachusetts. They provide electrical contracting services along with design/ bid/ build for commercial and industrial customers. In 2019, LidCo decided to reassess its approach to worker safety, particularly regarding arc flash risk to employees.
They wanted electrical PPE that would be effective, but also comfortable enough for employees to wear without hesitation. As part of the process of researching their options, Liddy and his brother attended a seminar held by Enespro PPE.
After this session, they decided it was worth a try. The availability of the Enespro AirLite 40 CAL kits has made it more likely that LidCo employees will wear PPE when they need to. "Our guys are 100% more likely to put them on," said LidCo CEO Robert Liddy. "When they're not too hot and uncomfortable, they'll continue to wear them throughout the duration of when they should be wearing them. It's been a real no brainer for everyone." Like so many other companies, the test became a full replacement. Get to know more about their path to new Electrical PPE here.
Electrical Safety Stories: Our Top Articles of 2019
Paired with our goal to change the game in electrical PPE, we also worked hard to continue delivering quality educational content to our customers.
What Are the 4 Different Arc Flash PPE Categories in NFPA 70E?
The 2018 version of NFPA 70E brought a wide range of changes, but simplified the selection of Arc Flash PPE. This article continues to be one of our biggest traffic drivers, and if you haven't read it, it's highly recommended. Check out What Are the Four Different Arc Flash PPE Categories Defined by NFPA 70E by clicking the link.
Learn even more by reading about why our AirLite makes it possible to use a 40 CAL suit for all levels.
NFPA 70E (2018) Understanding Approach and Arc Flash Boundaries
There are two main risks that exist when working on electrical equipment—shock and arc flash. Another piece of nearly-evergreen content (unless something changes in 2021), learn more about the limited approach, restricted approach, and arc flash boundaries in NFPA 70E: Understanding Approach and Arc Flash Boundaries.
Make life easier for your workers. Learn about our lift-front face shield options that allow workers the ability flip up their face shield when no longer in the arc flash boundary.
NFPA 70E (2018): Hierarchy of Controls
The Hierarchy of Controls became a major part of NFPA 70E in 2018, not only moving from informational note to standard text, but actually becoming a centerpiece of the standard. In this blog, we look at each level from elimination to PPE, discussing why PPE is considered your last line of defense.
Learn more in NFPA 70E Puts Hierarchy of Controls in the Spotlight and check out our recent deep dive series, which offers even more insights into the hierarchy of controls: A Brief History and a Look at the Steps.
Common Causes of Arc Flash
From human error and carelessness to dust and corrosion to condensation, there are many reasons that an arc flash incident may occur. Check out Common Causes of Arc Flash and learn more about how to minimize risk by downloading our free guide to building a culture of electrical safety.
IEEE 1584-2018 Presents Big Changes
IEEE 1584-2018 brings a wide range of new processes, calculations, and formulae that affect the way you complete hazard analyses, and could result in big changes to your safety program—including your PPE. Rounding out our top 5, this article demonstrates that many of the calculations you've come to know may have underestimated the danger. Read IEEE 1584-2018: Big Changes here.
How OSHA Uses NFPA 70E
We're rounding out our list at 6 this year to highlight one of our "heatseeking" articles. Released in October, this article has shot up our analytics report to be our 6th-most trafficked article of 2019 and answers two main questions: Can OSHA cite you for a failure to comply with NFPA 70E? If so, how?
Get to Know Enespro PPE: Your Workers Will Thank You in 2020
Our goal at Enespro PPE was to reinvent the electrical PPE category by introducing USA made products with new features that help solve the many complaints we heard from electricians over the years. We are very excited that so many safety professionals have said our products have helped them offer their electricians with the comfort, mobility and visibility they have been requesting for years. As we head toward 2020, the Enespro PPE team is excited to continue to advance electrical PPE and to work closely with our rapidly growing list of valued customers!
You can view specs and order our products 24/7/365 through our ecommerce site. Need more information? Contact us today!
<<
Back to Electrical Safety Stories Blog