Beat the Heat: How an HVAC Provider for Data Centers Improved Employee PPE Use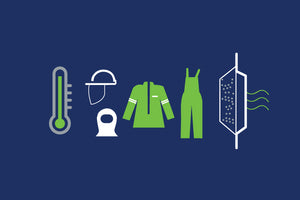 By: Rich Gojdics
As the Eastern United States braces for potentially record-breaking temperatures, Heating, Ventilation and Air Conditioning (HVAC) companies can expect a busy summer. However, when data center managers think of heat and HVAC needs, it's not the outside temperature that worries them, it's the thousands of seven-foot tall racks each able to reach temperatures equivalent to that of a toaster oven.
Without proper cooling, ventilation, and humidity control, tens of billions of dollars of damage and lost data could occur if a total HVAC failure hits a data center.
Data Centers and Server Farms Have Specialty HVAC Needs
While data centers are engineered to operate at the perfect temperature and have plans, backup plans, and backup-backup plans in place to keep everything running smoothly, if something goes wrong with even one computer room air conditioner (CRAC), the solution used to maintain the right heat and humidity in data centers, the equipment needs to be fixed immediately.
Especially in large Silicon Valley data centers and server farms, which include multiple square miles of server racks, CRAC products need massive uninterruptable power supplies. Massive power supplies require high levels of electricity, and high levels of electricity that can't be turned off means extreme danger for those working on the equipment.
For this, data centers and other companies turn to specialized HVAC providers like Therma, one of Silicon Valley's top providers of HVAC services for buildings and industrial facilities, including large-scale data centers. Specializing in the design, construction, implementation and maintenance of HVAC solutions, many of Therma's projects and service contracts include significant electrical work. 
How Therma Protects Workers: The Enespro 12 CAL Arc Flash Kit
In environments like data centers, in which thousands of customers pay massive amounts of money for 99.9% uptime (8.76 hours per year) or better (five nines means 5.26 minutes of downtime per year), you  can't just turn off the power. This makes many of the steps on the hierarchy of controls implausible or impossible, which makes PPE an imperative.
The PPE Imperative Meets Client Expectations
Pair this with word traveling fast in the Silicon Valley community, and in the words of Fred Mulgrew, Construction Safety Manager at Therma, "if you don't have a strong safety record, you don't get to bid on projects."
While Therma has an excellent safety culture and prides itself on providing workers with top of the line equipment for other needs, the state of the company's electrical PPE left much to be desired.
"We had purchased a bunch of different kinds of electrical PPE over the years, usually deciding what to buy based on price," said Mulgrew. "Then, over time, as items would break and wear out, we would piecemeal the kits together. It wasn't a compelling way to make safety a priority. It was like saying, 'Here, trust your life to this bag of mismatched stuff.' It all looked like it had been dragged through a knothole."
Added to this, their electrical PPE was kept in duffel bags, where elements of it became worn out and broken over time.
This mismatched, unflattering, and uncomfortable electrical PPE did little to send a message to workers or even clients that the company cared about safety, even though the company went out of its way to implement and follow strict quality control requirements for its other equipment.
The 12 CAL Enespro Arc Flash Kit: Consistency, Comfort, and Pretty Attractive
Mulgrew's team reviewed multiple options for new PPE and decided to move forward with the 12 CAL Enespro Arc Flash kit. The kit, which comes in its own gear bag, consists of coveralls made with Westex UltraSoft® as well as an OptiShield™ clear grey faceshield, an MSA V-Gard® hard hat, safety glasses and silicone ear plugs. It features an ActiveCool Venting™ underarm system, flame-resistant knit cuffs, a high temperature zipper with Nomex® tape and an elastic back waist for improved fit and mobility. The kit meets standards for ASTM F1506, OSHA 29 CFR 1910.269, NFPA 70E-2018 PPE Cat 1 & 2.
Therma took an incremental approach. "It's like if you are going to tear down an old bridge, build a new one next to it first," Mulgrew shared. "Before we took the old stuff out of service, we bought a kit or two. I had a few guys that I could trust would wear it. Their feedback was positive. Then, we started buying more and put it into circulation."
Case Study: Therma Chooses Enespro for Better Attitudes toward Electrical Safety
Therma is now working safer than before with Enespro 12 CAL kits. If you are looking to learn more about this company's journey to better PPE with Enespro, we invite you to read the entire case study below:
Ready to learn more about Enespro? Browse our products and contact us for a free quote.
<<
Back to Electrical Safety Stories Blog