Demand for Electrical Safety PPE Continues to Grow—Here's Why.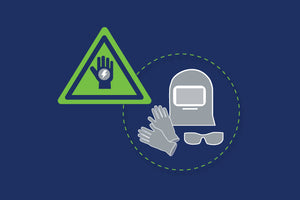 By: Jason Bischoff
Five Reasons Demand for Arc Flash PPE is Rapidly Rising
While the need to protect workers is consistent, there are certain trends pointing to increased demand including;
1.     Employer Commitment to Safety and Increased Focus on Safety Culture
Electrical safety culture is a big deal. As noted by OH&S, one of the biggest drivers behind the growth is an increased commitment to worker safety and a superior workplace safety environment. While something that drives PPE demand across the board, it's something especially important as it pertains to electrical safety.
Despite a century and a half of electricity use, research on arc flash events is much newer, with the concept deemed "the other electrical hazard" when initially discussed in the 1980s.
Today, as the dangers, causes, and calculations are better known and as employers continue to focus on protecting workers, more and more companies are looking to instill and implement a culture of electrical safety, going above and beyond the creation of an electrical safety program.
This focus on electrical safety culture will make conversations about safety more frequent, may result in a simplification of PPE choice (the one-suit and two-suit approaches make PPE selection easier) and likely increase the demand for better PPE.
2.     New Revisions to Industry Standards Creating Increased Need for Higher-Rated PPE
With the recent release of IEEE 1584-2018 potentially resulting in higher-than-anticipated incident energy calculations, many companies may notice that they will need to reevaluate their electrical PPE.
According to the new incident energy calculations, horizontal conductors inside a metal box (HCB) and vertical conductors terminated in an insulating barrier inside a metal box (VCBB) will have higher incident energy levels than they did under the 2002 calculations.
For those using a two-level PPE system, if analysis into HCB or VCBB previously resulted in incident energy near your CAT 2 PPE upper limit, work on either of these should now be considered as a task requiring a higher level of PPE, at least until you can have your arc-flash hazard analysis re-evaluated based upon the new guideline.
3.     OSHA Becoming More Stringent
A major driver behind the US market for electrical PPE, according to OH&S, comes from stringent safety regulations including OSHA general industry standards 1910.137. These standards address electrical protective equipment requirements for different processes.
Pair this with the increasing efficiency of OSHA targeting, the promise by the DOL that inspections will increase, and the recent hire of new compliance officers, and you may find it important to reevaluate your PPE as well. While many products may be compliant, if you're like many employers that use legacy PPE brands, you may see your workers balk at PPE requirements.
Too often, workers find PPE to be uncomfortable and inflexible, failing to provide the breathability they desire, something that unfortunately leads to non-use. If caught, you will be paying fines (although, compared to the alternatives, an OSHA fine might be the best-case scenario).
At Enespro PPE, we recently helped an employer who had this exact problem to fix it with our lightweight and breathable 40 CAL AirLite™ suit. In fact, the decision was so beneficial for workers, they were able to offer one single suit for all 4 categories—without drawing the ire of their workers. Read this case study here.
4.     Worker Demand for Better Products
Electrical workers are in high demand. With nearly full employment in all industries including electrical, it's extremely likely that your workers are fielding job offers promising better pay, hours, or benefits.
While the electrical PPE you provide may not be the number one reason they leave, your company's failure to adapt to worker expectations is a problem. Workers want to feel that their opinions are valued and that their company cares about them. Now think of it like this: Your workers likely hate the electrical PPE offered by legacy vendors. Even if you can match salary, if a worker feels unvalued, you could lose him or her.
Within the next few years, you'll likely be in the market for new electrical PPE, and if you think that it's best to just reorder the same product, you are putting your reputation as an employer who cares at risk.
5.     Companies Innovating to Meet New Demand
In addition to all of the aforementioned drivers of demand, another point referenced by OH&S is innovation. According to the article, a primary reason for new demand is "growing manufacturer focus toward aesthetic appearance, customer comfort, and safety."
At Enespro PPE, we know this all too well. We entered the market with one goal: Make products offering electrical safety without compromising comfort or appearance. Everything from our AirLite™ line of extremely lightweight 8, 12 and 40 cal suits to our exclusive ActiveCool™ venting to the reflective tape we use was added to our suits was done with the input of workers who need to wear them..
While we don't want to say we are the reason analysts believe there is a growing focus on appearance and comfort, we certainly can say that we are  focused on solving the problem.
Get to Know Enespro PPE—Your Workers Will Thank You
It's an exciting time to be in the electrical safety PPE market! While demand continues to increase, we will continue with our commitment to help safety professionals as they work through the challenges of getting their workforce to comply with electrical safety requirements. We will focus on #1) introducing arc flash gear that will solve problems and #2) creating helpful educational materials.
From AirLite™, the lightest weight line of 8, 12 and 40 cal arc flash suits, to a couple things we're excited to share with you in the coming months, we continue to pursue our mission to change the game in electrical safety PPE.
Get to know more about what we do, what we provide, and either order online or request a quote.
<<
Back to Electrical Safety Stories Blog