Enespro PPE Launches "Arc Madness" Social Media Contest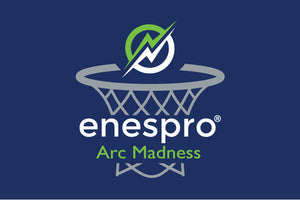 By: Mike Enright
Enespro PPE has spent the last 9 months innovating the Next Generation of Electrical PPE. We've brought a new product line of USA-made electrical safety, personal protective equipment (PPE) to the electrical world and we're excited to announce our next initiative. We are launching a social media giveaway contest to give our consumers the opportunity to win Enespro PPE products.
Titled, Arc Madness, the contest will coincide with the March Madness Division I basketball tournament schedule and have 6 rounds. In each round, participants have the opportunity to answer electrical safety and arc flash related questions for a chance to win great prizes. Enespro PPE will be giving away gift cards as well as Enespro branded electrical PPE including arc flash suits, face shields & hoods, rubber voltage rated glove kits and more.
"This contest gives us the chance to engage with electrical safety professionals and PPE wearers in a fun way, while providing more insight into the mission critical, USA-made personal protective equipment we are providing to the industry," states Mike Enright, President & CEO.
The contest will be announced via the Enespro PPE social media sites on March 13th and will continue through April 8th, when the National Championship game will take place. 
Get a head start and follow us on your favorite social media site now. The more you engage, the more chances you have to win. Don't miss your chance to score Next Generation Electrical PPE.
<<
Back to Electrical Safety Stories Blog