Kick the Tires Before You Buy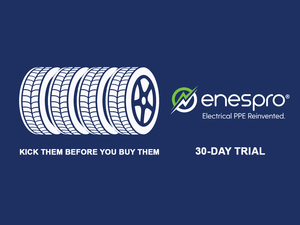 By: Rich Gojdics
Sitting at the dealership waiting for the attendant to find me after completing a scheduled oil change, I was stung with the quote he handed me, along with the complimentary vehicle inspection results indicating I was due to replace all the tires on my vehicle.  All 4 tires had been properly maintained, but inevitably their treads had worn down and I was advised their life cycle was nearing an end, and that I better act soon, otherwise face the possible consequences of compromising my family's safety. 
Sound familiar? While they were bringing the car around, I decided I'd soon hit the internet, research my options and understand how tires and dealerships compare before making any investments in new tires.  Since in my day all things somehow directly or indirectly relate to my profession, Arc Flash PPE, the buying process made me wonder when you replenish your electrical PPE if the road to your buying decision leads to the dead ends and frustrations I experienced shopping for replacement tires.
Here's how a few a few considerations to compare:
Low Priority
There's absolutely nothing exciting about replacing all my tires at the same time.  Easily, I could name 10 other things I'd rather use that money for rather than TIRES.  Without question, it's time to replace them.  This falls into cost of ownership, but I'd sure like to uncover a good reason to hold off on the spend.
Many companies put a low priority on budgeting for the eventual replenishment of their electrical PPE.  Task based PPE isn't used every day and typical cycle life for electrical PPE, we're told, in many cases is greater than 5 years.  So annual budget forecasting often overlooks the category of electrical safety.  Without any expiration dates included in standards for electrical PPE, it's difficult for safety leaders to justify the need to replace something that still appears to be functional.
Perceived Low Value Benefits
In my efforts to find meaningful feature comparisons between tire brands the key drivers between models included a list of perceived benefits that I don't think I'll really experience or appreciate.  Manufacturers compare variables such as "ride comfort", "ride noise" or "handling" as measurable differences between tire models.  As a Platinum Level loyal rental car customer, I'm behind the wheel of a different car almost every week. Through these experiences, I can't say I can easily decipher meaningful driving experiences that I can attribute to the tires. Needless to say, I don't rely too much on the website comparisons being made.
At Enespro, we entered the electrical safety segment several years ago to transform a stagnant industry that's invested little in innovation.  In an effort to better understand what the top user complaints are and what really matters to the electrical worker and safety leadership, we took the time to ask. In fact, over six months we met with many companies, conducting interviews to get real answers to these important questions and developed prototypes adopting user design ideas to drive a meaningful change across the entire category. We then took the additional time to meet again with large groups of electrical workers to capture feedback on the proposed design improvements.
Avoiding Buyer's Remorse
I now realize the variable that ultimately helped me move forward with my tire purchase wasn't a positive attribute I uncovered, but more the high value I place in not making a wrong decision.  In short, I bought the exact same brand again, because I couldn't find a compelling reason to change, and I really didn't want buyer's remorse if change resulted in a wrong decision.  Tire companies don't tell you, "kick em' and roll down the road with them for a week or two.  If you don't like them, we'll take them back".
How many decisions take place in the category of PPE, or electrical safety purchases the same way, motivated mostly by avoiding regrets or doubting valued innovations?
Enespro offers prospective new customers a no-obligation opportunity to trial brand new Enespro products for 30-days before making the purchasing decision.  If your employees don't demand that you change your brand preference to Enespro PPE, we'll provide the return label and you can ship back your trial products at our expense.  
What's the catch?  We listened first and uncovered what you truly believe needs to be changed for the better.  Then we acted, and continue to collaborate with users to make ongoing improvements.  We founded Enespro PPE to make a difference in electrical safety. That's why we actually asked the industry what's working and what's not; it's why we listened to gain a deep understanding of the issues to help make electrical workers safer; and it's why our equipment challenges the status quo with design and details focused on removing the barriers to use. Those details help Enespro PPE products set new standards for comfort, mobility and dexterity, visual acuity, odor resistance, and speed/ease of putting on, taking off and stowing the equipment.  In other words, we're creating higher user satisfaction.  Therefore, our product trials just don't end.  Almost always, companies buy their trial products and continue to transition away from the first-generation PPE commonly found in programs all over the country. 
When you see the double bolt logo at Enespro PPE, we want you to instantly think about a new market leader, an innovator, a company that's driving a change process to really improve the user experience. This results in increased compliance which helps workers stay safe.  The research time and investment validated that electricians will want these new products.
If you'd like to "kick the tires" and roll down the road for a week or two, please contact your Enespro PPE representative to learn more about our innovative solutions to problem solving.
<<
Back to Electrical Safety Stories Blog