NFPA 70E 2018 Puts Hierarchy of Controls in the Spotlight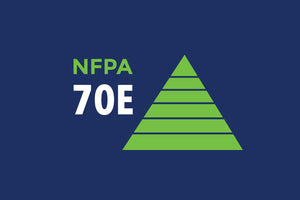 By: Mike Enright
Updated every three years, the National Fire Protection Agency's standard for electrical workplace safety, NFPA 70E, went into effect in August 2018. Written as a guide for employers, workers, and anyone looking to understand safe operating practices in the electrical world, NFPA 70E is the prevailing source for best practices and procedures, with previous editions guiding future regulations.
While not officially representative of the regulatory code, the Occupational Safety and Health Administration (OSHA) considers the NFPA 70E standard a "recognized industry practice" and has levied fines to companies that haven't protected their employees when arc flash accidents have occurred.
NFPA 70E (2018): Hierarchy of Risk Controls in the Spotlight
The hierarchy of risk control methods has been a common theme in the safety world and is in no way a new concept, but as part of NFPA 70E, the hierarchy was moved from being an informational note to the standard's mandatory text. The Hierarchy of Control Measures offers a systematic process for reducing the likelihood that an incident occurs.
The Hierarchy of Controls starts at the source, starting with the protections considered to be immune to human error and moving to the controls that are often the most feasible at any facility. Per NFPA 70E Sec. 110.3(H)(3), the six steps are as follows:
Elimination: Removing the hazard entirely
Substitution: Replacing a severe hazard with a less severe one
Engineering Controls: Replacing equipment or changing the work environment to separate workers from a hazard.
Awareness: Educating workers on the hazards and providing information on making safe decisions.
Administrative Controls: Developing formal procedures and processes for working safely under anticipated conditions.
Personal Protective Equipment: Equipping workers with clothing and equipment designed to reduce risk and limit the severity of injuries.
PPE: Your Last Line of Defense
In many processes or practices, the idea of elimination or substitution are plausible options. However, especially in the case of working on electrical equipment, a complete shutdown is not always a feasible proposition. In addition, even the task of verifying that equipment is de-energized requires the use of PPE. Added to this, even the best laid plans fail, and formal procedures only go so far when working on electrical equipment. This is where PPE comes in.
Personal Protective Equipment is the last line of defense in protecting workers from hazards, and is not only recommended, but required, with Section 130.7 noting the conditions in which employees must be provided PPE.
At Enespro PPE, we designed a complete line of 8, 12, 20 and 40 CAL Arc-Rated flame resistant suits for PPE CAT 2 & 4 exposures. We also offer Class 00, 0 and 2 rubber voltage rated glove & leather protector kits. We travelled the country to gain a deeper understanding of the needs of workers in the electrical industry with the goal of transforming the industry with greater comfort, functionality and safety for a wide range of work requirements. Learn more about our complete range of innovative electrical safety products and read our blog for all of the latest Arc Flash safety news.
Steps to Safety: Developing a Culture of Electrical Safety
NFPA 70E is a complicated document filled with many different practices and procedures, but even this document only does so much. While the document introduces and requires a safety program, programs are just that: Policies employees feel like they have to follow. However, there is a way to go beyond the basics, instilling a set of values, beliefs, and behaviors for workers that prioritize safety, and we discussed just that in our recent guide to developing a safety culture.
Developing a Culture of Electrical Safety explores the differences between a compliant program and a true culture of safety while offering tips that can make your people safer. Preview this guide below and download it here.
<<
Back to Electrical Safety Stories Blog