NFPA 70E: Understanding Approach and Arc Flash Boundaries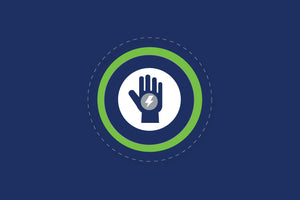 By: Mike Enright
Under NFPA 70E, there are three boundaries that are observed—limited approach, restricted approach, (the shock protection boundaries) and arc flash boundary. These boundaries trigger multiple requirements in 70E including but not limited to determining the type and level of PPE and qualifications required to cross into each level. As part of a larger training and safety program, these boundaries are put in place to minimize risk through avoidance or the use of PPE.
Limited and Restricted Approach boundaries deal with shock and are determined by NFPA 70E Tables 130.4(C)(a) for AC systems and 130.4(C)(b) for DC systems, while Arc Flash boundaries are determined through an Arc Flash Analysis or through the use of the use of the Arc Flash PPE Categories in 130.7(C)(15)(a).
Arc Flash Boundary
While the other two boundaries deal with shock hazard, the arc flash boundary refers specifically to arc flash hazards and explains that 1.2 calories/cm2 of incident energy, is the distance at which a worker will receive second-degree burns in the event of an arc flash incident without appropriate arc rated personal protective equipment.
Depending on the potential arc flash hazard, this boundary is calculated separately based upon specific system information or the boundary is determined in Table 130.7(C)(15)(a) and can be larger or smaller than the shock approach boundaries depending on the situation.
Limited Approach Boundary
The outer boundary at which a worker may be exposed to a shock hazard, the limited approach boundary, refers to the "stay back" distance for non-qualified workers. Qualified workers may cross this boundary after shock and arc flash risk assessments are performed with appropriate PPE if needed.
Workers without specialized training should stay outside of the boundary unless they have appropriate protection and are escorted by a qualified person.
Restricted Approach Boundary
The area closer to live equipment is the restricted approach boundary, in which only qualified workers with proper training may enter. If the equipment is still energized and justified energized work needs to be completed, an energized electrical work permit may be needed, and documentation is required. This includes a specific plan of action, a list of protective steps to be taken, and supervisory approval.
Personal Protective Equipment: Reducing and Mitigating Risk
If you manage workers who are tasked with working in hazardous electrical environments, it is your responsibility to take all necessary steps to protect them. NFPA 70E (2018) highlighted the Hierarchy of Controls, a systematic way of reducing hazards and risk. This hierarchy starts at the source (elimination) and moves into more plausible methods of risk mitigation.
Personal Protective Equipment is the last line of defense in protecting workers from hazards, and is not only recommended, but required, with Sections 130.4, 130.5 and 130.7 providing requirements for the need and the type of required PPE. At Enespro PPE, we have designed a complete line of Arc Rated Personal Protective Equipment for different levels of exposure (CAT 1, 2, 3, 4), and offer Class 00, 0 and 2 rubber voltage rated glove & leather protector kits for your protection as well.
Learn more about our complete range of innovative electrical safety products and read our blog for all of the latest Arc Flash safety news.
Steps to Safety: Developing a Culture of Electrical Safety
NFPA 70E is a complicated document filled with many different practices and procedures, but even this document only does so much. While the document introduces and requires a safety program, programs are just that: Policies employees feel like they have to follow. However, there is a way to go beyond the basics, instilling a set of values, beliefs, and behaviors for workers that prioritize safety, and we discussed just that in our recent guide to developing a safety culture.
Developing a Culture of Electrical Safety explores the differences between a compliant program and a true culture of safety while offering tips that can make your people safer. Preview this guide below and download it here.
<<
Back to Electrical Safety Stories Blog