Rethink Your Electrical PPE Buying Experience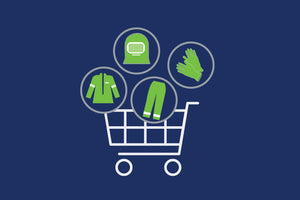 By: Jason Bischoff
Electrical personal protective equipment. It's not something people discuss very often, because it's not something people think about very often. For decades, arc flash suits, the buying process, and the experience could all be summed up using the same word—restrictive.
Are You Stuck in the Status Quo?
Equipment gets worn out; you reorder from your distributor. You get the same basic duffel bag full of uncomfortable arc flash gear, and you put it into operation. Maybe you switched distributors at some point, and now you have an unorganized mix — PPE bags chock full of randomly paired items still considered viable. A suit here, a hood there, all equally uncomfortable and all stuffed into a hideous pumpkin-colored sack.
But why don't you think about electrical PPE? When the rare electrical event occurs, it's literally the only thing that stands between your workers and an explosion that can reach temperatures hotter than the surface of the sun. It's also an investment. This isn't your monthly order of materials and electrical components.
This is something you only have to shop for a few times every decade. Imagine walking into your electronics store and buying the exact same phone every two years.
"Now," you may retort, "electrical PPE doesn't advance as quickly as cell phones." You're right. But it has advanced. If you haven't looked recently, you might have missed it.
Meritocracy—not Mediocrity
We launched Enespro PPE last year because the electrical PPE market hadn't done much. We've been in this industry for several decades, long enough to see just how complacent vendors can get when they make a product that is required.
Bulky suits, uncomfortable head gear, face shields that were difficult to identify colors. They've worked. They met these important standards—but at what cost? Worker comfort? Mobility? Vision and color recognition? There was limited innovation, and it all came at the cost of those on your front lines.
We set out to change that by spending several months at the beginning of last year in market research mode, asking electrical contractors and safety professionals from across the nation what they wanted out of arc flash PPE. It worked. We made arc flash suits that workers actually like.
Benefit for Workers? Check. Benefit for Your Company? Check.
But we've done more than innovate for your workers. We made it easier for the buyers and the company as a whole. Here's how:
We Made Transactions Easy… But We're Not Transactional
The internet has made product manufacturers more accessible for buyers than ever and gone are the days where you are required to purchase through a wholesaler or distributor. At Enespro PPE, we launched our business with this in mind and are pleased to sell our innovative USA made electrical PPE direct to you through our eCommerce website.
Now, whether you're browsing the internet at midnight or ready to order during business hours, you have the opportunity to buy our products direct online - 24/7/365.
But just because you can order online and have a product delivered to you within the week doesn't mean we're some faceless entity just out there to make the sale. Our team is here for you for the long run.
Here When You Need Us
Support? Personalized service? You need it, we got it. The Enespro PPE team is here for you before, during, and after the sale. Our commitment to partnership with our customers is what helped us to grow rapidly, and we are committed to ensuring that you are completely satisfied with the products we promise.
We want to hear from you. We have regional sales staff ready to answer your questions. Give us a call, we're ready to help.
Our Products Are Ready to Ship—Usually for Free
If you realize that your PPE is damaged, you can't just shut down work. You need products fast. Now, what's the likelihood that your distributor has everything you need on hand and ready to ship?
At Enespro PPE we strive to keep inventory on the shelves for our customers so we can ship out the same day if necessary to keep your workers protected. 
Continuing to Innovate—With Your Workers in Mind
We launched Enespro PPE after several months of speaking with the people on the front lines. We launched our products with their feedback, and are always looking for advice on how to improve our products even further. We're an agile company who's ready to know what we can do better, and are ready to deliver.
Get to know more about our products. You'll be glad you did.
<<
Back to Electrical Safety Stories Blog