What does CAT2 mean to you?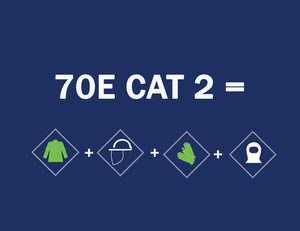 By: Rich Gojdics
Innovation is the best path to ensuring that qualified electrical workers routinely adopt and use each and all of the components required to meet the minimum protective requirements to Arc Flash PPE Category 2, or referred to as CAT2.  Enespro continues to listen and react to the ideas of the electrical workforce to design improvements into the components of CAT2 PPE to mitigate the risk of human error and improve electrical worker safety.
One of the most common terms to any reader aware of arc flash hazards is the phrase Arc Flash PPE CAT2.  In fact, best estimates are that easily more than one million workers in the United States today are not only familiar with the term, but also say that they conduct energized work in CAT2 and wear CAT 2 PPE as their typical protection to this level of potential arc flash exposure.  (If you're unfamiliar with the PPE required for the 4 NFPA 70E Categories, please refer to one of Enespro' s most-read Blogs: https://enesproppe.com/blogs/electrical-safety-stories/what-are-the-4-different-arc-flash-ppe-categories-in-nfpa-70e)
When asked the logical follow up question what PPE they use to meet the 2018 NFPA 70E CAT 2 requirement, almost always the only reply is that electrical workers wear the prescribed clothing, either an arc rated and flame resistant shirt and pants, or a coverall which are to be worn either for the brief period while properly de-energizing an electrical device for prior to routine maintenance work, or worn as identity apparel such as a uniform shirt and pant, all day. 
What's surprising about the limits to the typical response is that CAT 2 PPE, as defined in Table 130.7(C)(15)(c) includes a variety of arc-rated clothing options with a minimum arc rating of 8 cal/cm² but also includes additional required and important protective equipment to ensure the wearer's body, head and hands are adequately protected to the arc flash levels defined by the PPE Category.  In short, while a million wearers of CAT 2 PPE have a working knowledge of the arc rated clothing they commonly need, their incomplete answers reflect what many engineering consultants observe when inside plants; that conformity to the entire requirement of CAT 2 is very inconsistent. 
As these interviews often continue, when asked specifically whether head and hand protection is used, or how it's defined by the standard, a typical reply is a basic acknowledgement of the additional protection requirements, but often coupled with justifications for not always following the full requirement of CAT2.  A few examples that probably sound familiar to you are "my balaclava disappeared, but I always wear my CAT2 shield" or "the balaclava is so hot, it smells, and I've never had a problem so it's overkill for the work I do".   These are very common examples of how users justify their own unique exceptions to well know industry practices to avoid the perceived pain of using unpleasant electrical PPE.  Annex Q speaks to this behavior, human error.
So, when asked What CAT2 means to you, with a friendly reminder and a little leading the witness, generally we capture a first response which is limited to arc rated clothing requirements. This might evolve to a more complete answer that CAT2 is AR/FR clothing + some other things I'm not committed to.  Can it be that our electrical workers, in other words the most important respondents to the question, more universally take exception to the full requirement of CAT2? 
Why is human error such a pervasive influencer to the outcome of basic electrical safe work practice conformity?  Human performance expert Shane Bush explains that human error thrives in every industry, and is caused by factors such as avoidance, distraction, stress, fatigue, indifference and apathy etc.  Here are the pain points with the first generation of CAT2 head protection that may be contributing to human error.
    Head Protection
Face Shield Color:

Many experts recommend

against the use of

first-generation green

tinted

face shields

because they tend to

distort wire colors

. As a result,

electricians often decide to remove their face shield to get a better view of their task, compromising their safety and the integrity of the employers electrical safe work practices program. 
Face

Shield

& Balaclava

or Arc Flash Suit Hood: To meet the requirements of PPE Category 2, wearers have choices and can opt to either use an arc-rated face shield in combination with an arc-rated balaclava

or an arc rated flash suit hood

.  Across the "CAT2" workforce in the U.S.,

the arc rated hood

or shroud

option has rarely been adopted because the suit hood experience is said to be too invasive, shields are

often

too dark, and

they

routinely fog up creating an additional hazard and inconvenience.  
Balaclava.  Today, balaclavas

are required

for CAT2 tasks, worn in conjunction with arc rated face shields

(unless the alternative hood is

selected)

.  The addition is justified because of the common knowledge that the magnitude of CAT2 arcs can become full body encompassing in size, and the thermal or plasma activity are pervasive enough to potentially get around the shield.  So, Arc flash PPE

Category

2 requires a full-face arc rated balaclava as an additional insulative component to ensure exposed skin around the shield perimeter, or behind the shield, are adequately insulated from the arc.  Unfortunately, the majority of safety supervisors and electrical workers complain the balaclavas aren't worn routinely, as required which again compromised the electrical worker safety and company conformity.  Why is routine use avoided or completely rejected?  Because many of arc-rated, flame-resistant fabrics used of construction of balaclava are perceived as hot, uncomfortable,

unhygienic

and too invasive.
Following a thorough market research project, Enespro has developed a variety of innovative solutions to help prevent poor conformity to the full requirement of CAT2.  We believe that the risk of human error of avoidance can be mitigated through design of new, innovative products that improve more complete user compliance to the full requirements of CAT2 body, head and hand protection.
A New, Improved Solution. 
Improved balaclava:  Enespro uses the Westex UltraSoft knit, which is a soft and lightweight, breathable arc-rated fabric that improves the user comfort of the typical balaclava.
12 Cal Shrouded Hood:  In end user interviews we heard many suggestions from safety leaders to design a single-piece hard hat, arc rated shield and balaclava to accomplish improved comfort and better conformity to CAT2 requirements.  Through collaboration in developing prototypes and receiving extremely positive end-user support for the new design, Enespro introduced the CAT2 compliant shrouded hood https://www.youtube.com/watch?v=-YQ72BXq2BU
The primary design enhancement is a shroud. The concept is a 12 Cal shrouded face shield, which when pulled from the PPE bag as a single piece, eliminates the need for the dreaded arc-rated balaclava.  By putting on the shrouded face shield, an electrician avoids forgetting or skipping of wearing the required balaclava.  This allows Safety Leaders to gain confidence that their intended electrical safety work practices are routinely adhered to. 
The shrouded shield also includes:
Improved color distinction with new clear-grey shield
Enhanced airflow through multiple perforated air vents
Vented Lift Front shield, to step away from task and temporarily open for improved airflow
Anti-microbial liner - to kill odor causing germs
Shrouded with CAT2 AR/FR fabric to eliminate the needed balaclava
Enespro manufactures USA made electrical safety PPE Kits that include the head and hand protection to use in conjunction with arc-rated CAT 2 daily wear, or CAT 2 PPE Kits that are available with the suit, head and hand components needed to meet CAT 2 arc flash PPE and shock hazards requirements.  For more information and an opportunity to conduct a no-obligation 30-day trial please contact Enespro PPE at www.enesproPPE.com
<<
Back to Electrical Safety Stories Blog