What is the Wear Life of Electrical PPE?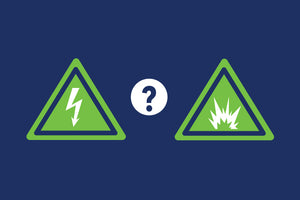 By: Mike Enright
Over the years, we've come to realize that the only way to address this question properly is by asking more questions. That's right, it's important to uncover the motivation behind the question in the first place before trying to answer it. For starters, when it comes to electrical safety PPE, you need to know if the hazard they're asking about is electrical shock, arc flash or both. If it's related to shock, the tests required by the standards will help answer most of the questions for you. Arc flash is not as cut-and-dried and, although the standards provide some guidance, safety professionals typically must use their best judgement. 
There are also two distinctly different categories this question falls into. One is related to safety and the other involves the financial impact. 
The Safety Question
More often than not, the motivation behind the question is related to how long the products will retain the protectiveness/ safety qualities over time and repeated washings.  We will often be asked if there are any standards that require periodic retesting or whether the products have an expiration date. This is an excellent question and the answer varies significantly for electric shock as compared to arc flash.
The Electrical Shock Hazard
The voltage rated rubber insulating gloves are covered by the ASTM D120 standard (Standard Specification for Rubber Insulating Gloves). This standard requires new gloves to be tested and put into service within 12 months of the initial test date. Once in use, the rubber voltage rated gloves must be retested every 6 months and, if they pass, the gloves are stamped with the new test date or expiration date and put back into service for another 6 months. This process is repeated until failure. Although it's difficult to predict how many cycles the gloves will last, higher class gloves (class 2, 3 and 4) are thicker so they tend to last longer than class 00 and 0 gloves. If the gloves fail either the visual inspection or after physical testing in the dielectric glove testing machine, they are defaced to ensure no future use (typically a finger is cut off).
In addition, leather protector gloves should be over the rubber voltage rated gloves to help protect them from damage in use.  The individual user is also required to inspect the rubber gloves before each use. There are a few methods that can be used, and employees should be fully trained on how to properly administer this inspection. Typically, the leather protector gloves are removed from service from contamination or wear.
The Arc Flash Hazard
Arc flash is a different story as there are no ongoing fabric or apparel tests required, beyond the important initial requirements (i.e. ASTM F1506 and F1959 etc.). Arc and flame tests can be performed on representative samples, but these tests are destructive. The care & maintenance of the garments should follow the manufacturers recommendations and, if a garment is damaged or shows significant signs of wear, it should be immediately removed from service so it can be repaired or replaced. This is often a judgement call and there is currently no expiration date for arc flash apparel.
Most electrical safety experts and safety professionals agree that it's practical to set up a plan to replace arc flash suits/ kits every 5 years or sooner. Shields and hard hats/liners should be replaced according to the manufacturer's recommendations. This timeline can be reduced significantly depending on the level of wear & tear in use and the number of times it's washed and worn.  As an example, we have a customer in the utility industry that issues each employee one set of 40 CAL garments that are washed and worn daily, sometimes for hours at a time. These garments will undoubtedly have to be replaced well within the 5-year timeline.  Other electrical contracting customers typically wear their suits for 10-15 minutes a few times a week to verify that the equipment they're working on is properly de-energized. In these cases, the garments routinely remain in service for approximately 5 years.
It's commonly known that arc rated fabrics can lose some strength over time. The amount of strength loss varies by fiber type and it can be impacted by environmental factors such as high heat & humidity and exposure to UV light etc. There is a 10-year replacement rule in place for firefighter turnout gear largely because of this concern. The same type of flame-resistant fabrics are often used to make arc flash suits. It would be very difficult, if not impossible, to predict exactly how much of an impact fabric strength loss would have on the arc flash protection, but it's reasonable to expect a reduction beyond 5 years. 
Time will tell whether any of the standard setting committees will discuss the possibility of including an expiration date for arc flash apparel. In the meantime, it's a good practice for companies to plan on a 5-year replacement cycle and start to swap out arc flash apparel that is currently 5 years or older with new suits. 
The Financial Question
The motivation behind the "what is the wear life of electrical PPE" question could simply be dollars and cents. While safety is paramount, it's also important for companies to understand how long the garments will last so they can calculate the cost per use and build it in to their budgeting decisions. This is a critical question to answer because it may influence the amount companies are willing to invest upfront. If the electrical PPE is expected to last up to 5-years, you may opt for premium products that may cost more upfront, but they'll be a relative bargain over the 5 years when you consider the many advantages they bring to the table. 
The technology of arc flash apparel has improved dramatically and some of the new premium products address the many complaints safety professionals have heard from electricians that push back on wearing electrical PPE. By offering a higher level of comfort, increased mobility and better visibility, safety professional can send a positive message to their workers that can increase the likelihood that they will wear it when required. This will help keep them safe and help the company stay in compliance. 
The Enespro PPE Solution
The team at Enespro PPE has been involved in electrical safety products for decades. Our goal in launching Enespro PPE was to reinvent the electrical PPE category by introducing USA made products with new features that help solve problems with traditional electrical PPE. The innovations in our line of arc flash PPE were gathered from meeting with hundreds of safety professionals and electricians. The majority of their feedback was focused on improving comfort, mobility and visibility so our new line includes:
AirLiteTM is the lightest weight line of 8, 12 and 40 cal kits on the market
ActiveCoolTM underarm venting has 5x's more stretch and 3x's more airflow
OptiShield™ clear-grey face shields dramatically reduce color distortion
12 CAL Shrouded face shield eliminates the need for uncomfortable balaclavas
Custom PPE storage bag to protect face shields from damage
We are so confident you'll agree that Enespro PPE will change the way your workers view electrical PPE that, for a limited time, we're offering all end users the opportunity to experience the difference first-hand with a complimentary 30-day trial. Please contact us today to get this trial started.
<<
Back to Electrical Safety Stories Blog