Why Testing and Standards Matter for Arc Flash PPE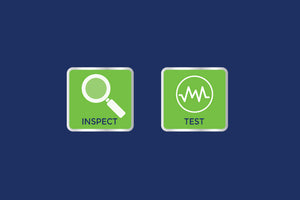 By: Mike Enright
So much goes into the design and manufacture of electrical PPE, and so much more goes into the testing of it. At Enespro, we understand how valuable personal protective equipment is in order to make sure your employees are safe when completing potentially hazardous tasks.
We would today like to take a look back at some of the history in the electrical world and explore how the standards evolved to what they are today.
Electrical Safety: The History and Basics
137 years ago, the world was treated to the first use of commercialized electricity. With the flip of a switch, 50 incandescent lamps were illuminated at Thomas Edison's Pearl Street generating station, ushering in a new age of commercial electrical power systems. Shortly after this, the world also saw another historic event—the first electric shock from a commercial power system.
From the First Shock to the First Standard
Fast forward 12 years, and William Henry Merrill was tasked by underwriters to investigate the fire at the World's Fair. Noticing the market for materials testing and safety, the 25-year old Merrill launched Underwriters' Electrical Bureau in 1894—now simply known as Underwriters Laboratories.
As knowledge of power generation grew, so did the understanding that improper equipment installation and maintenance could cause fires. Paired with the ongoing disputes between Edison, Westinghouse, and Tesla and rapid adoption of electricity across the nation, by 1895, there were five different installation codes in existence. A committee was formed to address the challenges in 1896, and by 1897, the first ever National Electrical Code (NEC) was released, ushering in a new era of standards.
A Timeline: The Organizations, Standards, and Studies in Electrical Safety
From here, we began to develop the organizations that manage the organizations, standards, testing, and practices that exist today:
1896: The National Fire Protection Association Launches
1898: American Society for Testing and Materials (ASTM)
1911: NFPA takes over the NEC
1913: U.S. Department of Labor
1918: American National Standards Institute (ANSI)
1956: Charles Dalziel introduced the first studies into the measurements of electricity on human and animal subjects
1950s-1960s: Alice Stoll and Maria Chianta studied the effect of heat related to burn injury. These studies led to the Stoll Curve.
1970: Occupational Safety and Health Act creates Occupational Safety and Health Administration (OSHA).
1979: NFPA published NFPA 70E
1982: Ralph Lee Presents The Other Electrical Hazard: Electrical Arc Blast Burns
1995: NFPA 70E references the dangers of Arc Flash
2000: NFPA 70E introduced the Hazard Risk Category Classification system
2000: First Incident Energy calculations completed to determine the severity of an arc flash.
2002: IEEE 1584—IEEE Guide for Performing Arc Flash Calculations published
2002: NEC first acknowledges the arc flash hazard and introduced Article 110.16 Flash Protection.
2007: National Electrical Safety Code (NESC) requires all utility systems under this standard to perform arc flash assessment.
2009: NFPA 70E adds more Arc Flash Labeling requirements
2015: NFPA replaces HRC categories with PPE.
The Combined Landscape: Why Standards Matters
When it comes to electrical safety and OSHA compliance, each of the items mentioned above play some role in the evolution of the OSHA standards, 1910.2(g), which determine specific concepts as part of the National Consensus Standard.
Consensus Standards
As noted in a 2003 memo on the standard interpretation of consensus standards, the Department of Labor announced that, "With respect to the General Duty Clause, industry consensus standards may be evidence that a hazard is "recognized" and that there is a feasible means of correcting such a hazard," ultimately meaning that industry consensus standards, while not officially mandated by OSHA, are used in determining the mandatory safety and health standards.
In turn, consensus standards have an impact on the testing of garments and equipment for such PPE to be deemed acceptable.
The Long Path to Meeting PPE Standards
If you've ever wondered how PPE is tested to meet the various standards, the path is by no means an easy one. From the fabric to the garment, everything including fasteners, thread, and attachments is analyzed or tested to determine the utility and safety before it can be used..
At Enespro, we understand how important it is to test PPE, and with our extensive experience in the industry can proudly stand behind our products—all tested to the applicable standards and with videos of arc flash tests proudly displayed on our product page. However, we know that we are not the only ones testing arc flash PPE. We do know that we have gone above and beyond to deliver the most innovative PPE.
Above and Beyond: Standards Matters, but Innovation is Key
The thing about PPE standards? They only help protect your workers if the workers wear their personal protective equipment—properly, matched to the hazard, or at all. Put simply, if a garment is designed to mitigate damage caused during an arc flash, it only works up to a certain level. If a worker wears a CAT 2 suit in a situation that requires CAT 4 protection because the CAT 4 suit is too bulky or uncomfortable, they are at risk, standards or not.
If an employee is wearing the wrong equipment for the job, they aren't effectively protected—and this happens all too often.
As we recently discussed, the implementation of standards means that a piece of equipment will work as expected, but "as expected" is the bare minimum.
Many PPE manufacturers make products that work as expected… In more ways than one. Their suits do what they were supposed to do, but they also set the expectation that an arc flash kit has to be bulky, uncomfortable, hot, immobile, and an annoyance. "As expected" is a double-edged sword in PPE.
At Enespro, we set out to shatter expectations, delivering electrical PPE that not only does what it's supposed to do, but delivers lightness, comfort, breathability, and mobility—quite UNexpected.
Whether it was CAT 4 Arc Flash suits that are nearly half the weight of traditional gear, a clear grey tinted face shield that dramatically improves color recognition vs. legacy green tinted shields, or our quick-ship delivery from inventory at competitive prices through our ecommerce site, the Enespro PPE team has you covered—comfortably.
<<
Back to Electrical Safety Stories Blog