Four Things You Never Thought You'd Get from Arc Flash PPE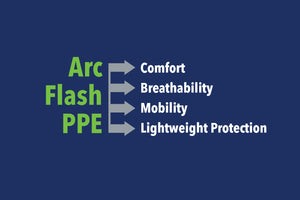 By: Mike Gillette
You may think that arc flash PPE has to be uncomfortable, right? It has to be constricting, heavy, and fit poorly. It also has to be hard to put on and take off. 
These are just tradeoffs you have to make in order to, you know, not die… Right? Wrong.
Arc flash PPE doesn't have to cause so much pain just to be compliant.
Today, we'd like to share with you some of the things you'd never think arc rated PPE can deliver.
Comfort
When a worker sets out to repair or maintain electrical equipment, the last thing they should be worrying about is that nagging discomfort that comes with every movement. "Oh, you need to reach for a tool? Too bad your PPE is too tight in all the wrong places (and too baggy in others)."
Way too many workers have found that even the right size offers the wrong fit. Knowing this, when you're working on something that could literally create temperatures hotter than the surface of the sun, you shouldn't have to worry about a product that doesn't move with you.
Sadly, discomfort and improper fit is one of the main reasons workers avoid using PPE in the first place—it hampers the ability to do the job and may even deter employees from wearing the appropriate PPE for the circumstances.
The right PPE can provide comfort and move with a worker—without sacrificing safety.
Breathability
If there is one thing workers complain about—especially when using Category 4 PPE—it's breathability. We don't all work in an area that's cold or tepid year-round. Summer is approaching and no one likes the thought of putting on an arc rated kit when it's 90 degrees.
While no PPE is going to feel as good in the middle of summer as a T-shirt and shorts, there are areas where you can make a product more breathable. At Enespro PPE, we designed many of our products with vents in places where it matters—underarms and hoods—allowing workers to complete hot work without getting too hot.
Mobility
Similar to comfort, mobility is a top concern for workers. If you've ever seen the movie A Christmas Story, you likely remember the 'preparing for school' scene, in which Ralphie's little brother is dressed in layer upon layer of clothing. After the comedic ordeal, he responds "I can't put my arms down!" In another scene, the same child is knocked down by a bully and can't get up. More comedic relief.
Mobility matters, and the right PPE can deliver it. Just because you don't intend to use PPE as athletic wear doesn't mean it can't deliver the range of motion a worker expects. Learn more about the importance of mobility and how we worked to deliver it here.
Lightweight Protection
Toss on a peacoat or trench coat. Compare it to your PPE. The thing with protecting workers from 40 cal/cm2 of energy? Suits are often heavy. Traditionally, this was an annoyance that went with the job description—If you wanted to protect yourself from high amounts of incident energy, you had to don a thick coat that weighs more than winter wear.
It doesn't have to be this way. Fabric science has advanced, allowing providers to create jackets and bib overalls that weigh less than suits providing half the protection. In fact, Enespro AirLiteTM 40 CAL suits weigh less than a 20 CAL—and is comfortable enough for even CAT 1 & 2 tasks.
Expect More: Enespro PPE
There's a good reason you'd believe that electrical PPE is terrible—our competitors have spent decades telling you "that's just the way it is." But we're here to tell you that it can be better.
Arc flash PPE can be comfortable. It can be breathable. It can be lightweight and it can make donning and doffing easy. It can do all this while still protecting workers. We should know—we designed PPE to do just that.
If you are looking for electrical PPE that provides arc flash protection without sacrificing performance, comfort, breathability, or ease of use, take a look at Enespro PPE. Get to know more about our complete line of arc flash kits, arc flash hoods and face shields, and electrical gloves.
Our Products in Action: LidCo Electrical Contractors Case Study
If you're like many employers, you know the challenge: No matter how much you try, employees still seem to ignore the requirement to wear electrical PPE. In fact, this was a problem for LidCo Electrical Contractors—until they found Enespro.
For years, LidCo provided their employees with traditional arc flash PPE, only for employees to ignore requirements. Sick of seeing these risks, CEO Robert Liddy sought a better solution for safety, attending a recent Enespro seminar and ultimately opting to purchase an Enespro 40 CAL AirLite™ kit for each van.
The results were astounding. Not only did it increase use among workers, employees found the suit so lightweight, breathable, and comfortable that the company was able to move to a one suit approach. Ready to learn more? Read the entire case study below.
<<
Back to Electrical Safety Stories Blog